Podcast: Play in new window | Download
Subscribe: Apple Podcasts | Android | RSS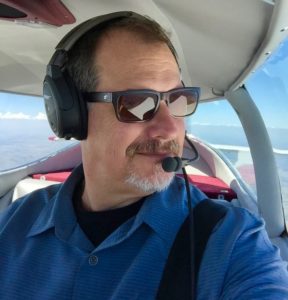 Welcome to a special edition of the Stuck Mic AvCast. One of the most important aspects of flying is our eyesight. One pilot, Dean Siracusa of Flying Eyes Optics, has made it his mission to help pilots increase their ability to see and avoid traffic while wearing functional and stylish eyewear.
Dean is the founder of Flying Eyes Optics and an avid Meyers 200 pilot. What is a Meyers 200 you might ask? You are about to find out.
Preflight Checklist:
Sponsor: AerospaceScholarships.com the largest directory of certified scholarships for the Aerospace Industry including pilots, engineers, mechanics and flight attendants.
Cruise Flight:
Dean And I discuss:
How he became interested in aviation
Why he loves the Meyers 200
How he became interested in designing eyewear for pilots.
What makes his eyewear different.
What is next in Dean's Flying Life.
How you can reach Dean and learn more about Flying Eyes Optics.
See him in San Marcos or Austin
After Landing Checklist:
Picks Of The Week:
No Pics of the week since this is an interview.
Links Mentioned In The Podcast:
Meyers Aircraft Owners Association
Video Of The Week: