Podcast: Play in new window | Download
Subscribe: Apple Podcasts | Android | RSS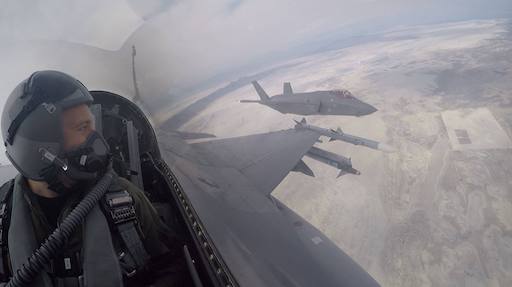 Today we have with us a former co-host and now television reporter for NBC affiliate KSL 5 in Utah, Sean Moody. Sean is a private pilot and had the fortunate opportunity to fly in the F16. The F16 recently received a new lease on life pushing back the retirement to 2048.
Preflight Checklist:
Sponsor: AviationCareersPodcast.com
Announcements: Facebook.com/StuckMicAvCast
Cruise Flight:
Former co-host Sean Moody discusses his childhood dream come true when he had the chance to fly the F16.
We discuss From Cessna to F16:
Sean's aviation journey and how he reached this pinnacle.
How he was able to get a ride in the F16 Preparing for the ride of a lifetime.
Flying the F16.
Why 2017 is a significant year for the F16. What is next for Sean in his aviation journey.
After Landing Checklist:
Picks Of The Week:
No picks of the week since this is an interview.
Links Mentioned In The Podcast:
https://www.lockheedmartin.com/us/products/f16.html
F-16 Flight
For the past few nights, you've seen my stories about how the pilots of the 388th Fighter Wing and 419th Fighter Wings at Hill Air Force Base are transitioning from the F-16 to the F-35. As part of the series, one of their pilots gave me a firsthand look at what it's like to fly in the Viper. That was quite a ride!

Posted by Sean Moody on Tuesday, September 12, 2017
F-16 History
F-16's Legacy at Hill Air Force Base

As the fighter pilots of the 419th Fighter Wing and 388th Fighter Wing at Hill Air Force Base move into the brand new F-35, they're also remembering the legacy the F-16 leaves behind. Here's my story for KSL 5 TV.

Posted by Sean Moody on Monday, September 11, 2017
F-35 Future
Just because Hill Air Force Base is saying goodbye to its F-16s, don't expect things to slow down! New F-35s are coming in to take their place. Here's what they say the future holds.

Posted by Sean Moody on Monday, September 11, 2017