Podcast: Play in new window | Download
Subscribe: Apple Podcasts | Android | RSS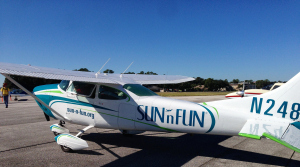 Pre-Flight Checklist
Carl reporting live from the Aerospace Discovery weekend at Sun n Fun. You can listen to Sun N Fun Radio all year at LiveATC.net/SNF or visiting the Sun N Fun Website and clicking on the Sun N Fun Radio button. You can also listen to the individual interviews from this episode at Chats From The Deck.
A great place to listen to interviews with your favorite air show performers, historic aviation figures, and passionate aviators is by visiting  Chats From The Deck. This wonderful resource is hosted by the volunteer chairman of Sun N Fun Radio Dave Shallbetter. Recordings include live interviews from the deck at Sun N Fun, interviews by volunteers reporting during the fly-in , and recordings from various live events throughout the year such as Aerospace Discovery.
Cruise Flight
Here are the interviews Carl conducted:
Carl Interviewed Air Force Pilot Craig Pricer, pilot of the F-22 Raptor Stealth Fighter
Trip from Sun n Fun Radio, talking about volunteer opportunities
Roger Davis, one of the pilots taking kids for Discovery Flights
Robb Williams, discussing some of the things kids can do including Boy Scout merit badges, stomp rockets, laser tag, a star party, and more
Wayne Harris, one of the pilots flying kids in a suped up Cherokee
Buzz Allman, another pilot taking kids up
Laura Vaughn, volunteer organizer of flights for kids
Jive from Fly Jive Fly
Jamie Jamesson, discussing summer camps at Sun n Fun
Amy from Girl Scouts in Gainesville, Florida
Elaine from Tampa Bay Geocaching store
Angel Castianos, pilot of a Breezer with the Lakeland Aero Club
After Landing Checklist
~Picks of the Week~
No picks this week since the show is at the event.
Sun N Fun Radio is sponsored by: