Podcast: Play in new window | Download
Subscribe: Apple Podcasts | Android | RSS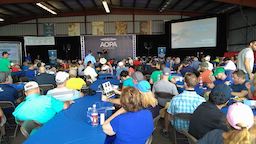 Welcome to a special edition of the Stuck Mic AvCast. Our reporter in the field, Russ Roslewski was in Norman Oklahoma for the AOPA Fly In. AOPA fly-ins happen around the country bringing many people together in the aviation community. This event broke all previous attendance records with over 7500 people including 500 planes. The AOPA Fly In's are a great place to learn, share your passion for aviation, and help advocate for the GA community.
Preflight Checklist:
Sponsor: Aviation Careers Podcast. This is the largest online directory of aerospace scholarships. For $10 per month or $10 for the annual guide, you can potentially save hundreds or even thousands of dollars in scholarships.
Announcements:
We have postponed our meet ups until after we clean up from Hurricane Irma. As you know we moved to Lakeland recently and as we record this show the storm is passing through the area. To learn more about upcoming meetups please visit our facebook page.
Cruise Flight:
What airlines do during a hurricane.
Interviews From AOPA Fly-In:
After Landing Checklist:
Picks Of The Week:
Carl: Bay News 9 Weather. A great local news source to Carl's area that even gives info for pilots.
Russ: Operation Air Drop Facebook and Operation Air Drop Website. This group used airplanes to move needed supplies into Houston after Hurricane Harvey, and have turned to Florida to assist with relief after Hurricane Irma.
Video Of The Week:
Video From Fun Places To Fly