Podcast: Play in new window | Download
Subscribe: Apple Podcasts | Android | RSS
Pre-Flight Checklist: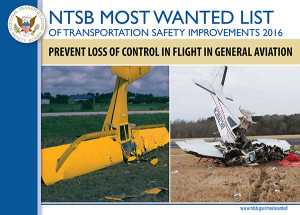 We have a special show tonight with a big cast of characters: Rick Felty, Victoria Zajko, Tom Frick, Larry Overstreet and Sean Moody. Paul Grieco also joins us tonight as a special guest.
Cruise Flight:
Tonight's topic is the NTSB Most Wanted List
Reducing fatigue-related accidents and FAR 117
Stories from the crew about flying fatigued
Implementing fatigue management training at your flight school, having a fatigue checklist, and knowing your personal limits
Medical fitness for duty, considering other issues in our medical background that could prevent flying
Disconnecting from deadly distractions
The difficulty of learning to use apps and devices in the cockpit, which often do not work on the ground.
Loss of control, and the use of an angle of attack indicator
Listener Mail:
A listener from Facebook had a question about approach segments such as initial, intermediate and final.
After Flight Checklist:
~Picks of the Week~
Sean: Airporttag-Pillows, t-shirts, and other things marked with airport codes, along with quotes on flying
Victoria: Garmin 796-portable touchscreen GPS for weather, approach plates, and other general aviation features
Larry: Sun n' Fun is coming April 5th-10th 2016.
Rick: LearnTailwheel.com– A website for learning tail wheel flying by Paul Santopietro, a good friend of the show (you can check him out in episode 32A)
Carl: Flyers and Why they Fly– an out of print coffee table book that captures the love of aviation.
Tom: rucsoundings.noaa.gov– A site to determine where the temperature and dew point are going to converge to discover cloud heights.