Podcast: Play in new window | Download
Subscribe: Apple Podcasts | Android | RSS
Pre-Flight Checklist: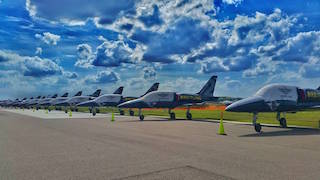 This is a special, LIVE episode of Stuck Mic from the Sun N Fun Air Show! Carl is joined by special c0-hosts Russ Roslewski, Larry Overstreet, Robert Cigliano, Tom Frick, Eric Crump, and Derek Lagasse.
Carl is meeting Russ Roslewski in person for the first time. Russ has his own CFI blog and accepts user submissions.
Eric Crump announced that he missed announcing some people in his initial welcome to Sun N Fun including his wife and kids, Dad, and his Mom.
Cruise Flight:
Polk State College asked Carl to be the coach of the flight team this year, and it has been a great year. The team captain also joined them on the deck. M0A donated so they could have a plane to use. Kevin Lacey of Airplane Repo promoted the organization. A number of others donated and assisted including ASA and the local FBO. You can donate to the team as well.
The captain of the flight team this year is now a working pilot flying around the Caribbean and will be Assistant Coach next year.
Rod of Open Airplane stopped by the deck to talk about the way they rent airplanes the same way people rent cars.
AOPA is advocating starting a flight club, and is giving away an airplane to support it. Check out their site for details.
Ken Cage of Airplane Repo discusses their show and how it promotes aviation.
Rob Williams, Executive Director for the Aerospace Center for Excellence
Victoria and Turbo the Flying Dog joined by Skype
Listener mail about accidents or incidents, which led to a discussion about talking about your mistakes and learning from them.
Inspiring future aviators
After Landing Checklist:
~Picks of the Week~
No picks of the week as this is a live interview show.
Photo Credit @pilotmandi on Instagram
This episode is sponsored by Aviation Careers Podcast and the Aerospace Scholarships Guide