Podcast: Play in new window | Download
Subscribe: Apple Podcasts | Android | RSS
Pre-Flight Checklist: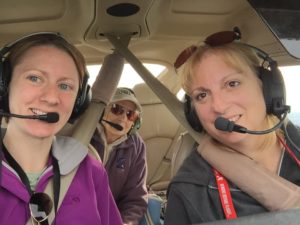 Welcome to the show, we have a very special guest with us along with Carl, Rick and Victoria.
Carl suggested you checkout the June issue of Flight Training magazine, has a cover article on cross wind landings, which ties right in to the recent episode we did on this same topic. Also please continue to contact us on the site with your comments and questions.
Victoria reminded about the Get into the Air Scholarship from Air Pros, which has a deadline coming up this year of June 15th.
Cruise Flight:
Victoria introduced this episode's Interviewee Lin Caywood. Lin helped Victoria get into the 99's and further her aviation career. She was also one of the participants in the Air Race Classic.
We discuss with Lin:
How she got into flying
Training
Her experience in being introduced to aviation
15 years ago went through 4 instructors
Has seen a change in more Women in the cockpit
Have seen a change in general?
4 days to complete the race
1 day weather buffer
How handicapping for the race works
Have a special competition for school teams
Mother bird program
If first time race team.
Like fly camp
For crew just need a license
They have a few small scholarships that are raise
501(c) 3
Girl scouts
Lots of awareness
99's wai.
All have local chapters
Where she is going next
Eventually wants to get her CFI
Mentor in the learn to fly scholarship
Oshkosh 99's booth
PBS documentary filmed during the race
Used to be called the powder puff derby in the early days
Will air again in june on pbs.
Local 99's has set up a local school visit for airport day
Host of 2017 of start of the race.
Sugarloaf 99's in fredrick
After Landing Checklist:
~Pick of the Week~
No picks this week, but here are some links mentioned in the episode:
http://www.beyondthepowder.com