Podcast: Play in new window | Download
Subscribe: Apple Podcasts | Android | RSS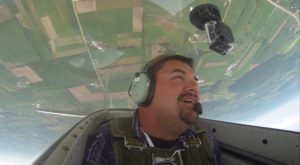 Welcome to the podcast where we educate and inspire you to fly. Today we have a special guest Kent Shook. Kent is an aviation podcast pioneer and one of the original organizers of Podapalooza at AirVenture. Kent has a varied technical and aviation background which helped him create the popular PilotCast Podcast. Joining us tonight on the podcast are Rick Felty, Larry Overstreet, Tom Frick, and Victoria Neuville.
Preflight Checklist:
Sponsor: AviationCareersPodcast.com – New Membership benefit is the Advanced Holding Patterns Video. For only $10 a month or $100 a year membership includes:
The entire online directory of scholarships.
The Practical Guide To winter Flying
The Pilot Jobs Book Online Course.
Flying IFR Safely this summer.
Thunderstorms Hazards and avoidance.
Go to AviationCareersPodcast.com to learn more.
Cruise Flight:
In The Beginning – The birth of aviation podcasting.
How Podapalooza began and where we are today
The melding of Kent's aviation background and technical background.
How Kent developed his passion for aviation and what he flys now.
Kent has figured out many ways to have fun with his ratings.
There's always that "next rating" you can go for
Flying club benefits.
He's figured out how to have a mission for flying, and not just do the same old stuff over and over.
After Landing Checklist:
Picks Of The Week:
No Picks of the week since this is an interview.
Links Mentioned In The Podcast:
http://mountaincanyonflying.com/ – The mountain flying course
http://capcityflyers.org/ – Kent's flying club Capitol City Flyers
http://www.greencastle-aeroclub.com – The other flying club Kent was in, where the pumpkin bombing was done
http://www.aeromedicaldoc.com – Dr. Bruce
http://www.rickdurden.com – CFI Rick Durden
http://northwoodsaviation.com – Northwoods Aviation, where Kent flies on floats and skis
Video Of The Week:
Pilotcast Video – Oshkosh 2011 – LSAF – JAARS