Podcast: Play in new window | Download
Subscribe: Apple Podcasts | Android | RSS
Preflight Checklist: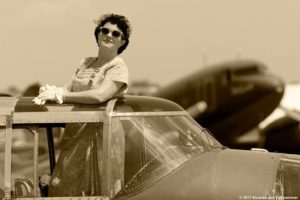 This is a special interview between Carl and Theresa Eaman, who sings classical jazz and WWII songs at air shows and other places.
Sponsor :
Jeff Kennon Author of The Day I Learned To Fly
"If you want to ignite in your small child, or rekindle the first time you fell in love with flying, purchase your copy today of 'The Day I Learned to Fly' by Jeff Kennon, Speaker, Author and Pilot'
Cruise Flight:
Today I have a special guest on the podcast. For over a decade Theresa Eaman has been touching hearts and souls through her singing and moving performance at airshows. I first heard Theresa at the WWII Weekend in Reading, Pennsylvania and most recently at Sun N Fun. I am excited to have this lovely person, outstanding performer, and fellow aviation enthusiast on the show. Theresa Eaman is a patriot, outstanding entertainer, and accomplished WWII reenactor.
Theresa Eaman and I discuss:
Her unique ability to combine her love for music and aviation.
How she started singing at various aviation events.
The National Anthem.
Her favorite Jazz songs.
When You Wish Upon A Star – my favorite song and the unique story behind the recording.
WWII reenacting rewards and challenges.
Her upcoming events and how you can find more about her.
After Landing Checklist:
Links Mentioned In The Podcast:
Video Of The Week:
Teresa Eaman Singing Brings Warbirds to Life SNF 2017
Thanks Again To Our Sponsor:
Jeff Kennon Author of The Day I Learned To Fly
"If you want to ignite in your small child, or rekindle the first time you fell in love with flying, purchase your copy today of 'The Day I Learned to Fly' by Jeff Kennon, Speaker, Author and Pilot'