Podcast: Play in new window | Download
Subscribe: Apple Podcasts | Android | RSS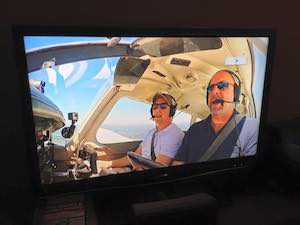 Carl is joined by Rick Felty, Tom Frick and Larry Overstreet to answer your emails and get some feedback! We talk extensively about communicating with the tower in Charlie and Bravo airspace.
Preflight Checklist:
Announcements:
The new updated 2017 Aerospace Scholarships Book is now available in Amazon and the iBooks store.
Rick has released another book: Tabitha Fink, Ninja at Night. It's a great kids book about being afraid of the dark.
Cruise Flight:
Reader question from ExpertAviator.com Blog:
First Question:
Controller: "Cessna 123NU squawk 2343, maintain 2000 on departure"
You: "Cessna 123NU, two thousand, squawk 2342?.
Controller: "Cessna 123NU read back correct contact ground on 121.9 for taxi"
———————————————————————————————
Read back correct???
FAA Air Traffic Organization Policy Memo December 2016
Second Question:
If i got my squawk code and had my VFR flight following en route. My cruise altitude will be flying through Class C airspace and the altitude was approved by the approach. Am i clear to enter Class C airspace or do i have to contact the tower of the Class C before i could enter?
Third Question:
Overheard on a podcast that filing and NOT opening a VFR flight plan still gives them a place to start looking if you don't show up? How?
Question 4:
What season and episode is the Island Life HGTV Episode with TavernAero In Florida Keys? I cannot locate it for the life of me. Haha love the podcast btw. I'm a student pilot but hope to solo any day. Winter here in NH so your podcast helps keep my head in the game.m when I can't fly. Thanks! HA! Me neither! THANK YOU!
After Landing Checklist:
Picks Of The Week:
Carl – Collings Foundation Wings of Freedom Flight Experiences: A national tour of classic planes going around the country this year.
Rick – Dreams of Flight book
Larry – ASA "Say Again, Please" Guide to Radio Communications.
Tom – Fltplango:
Apple
Android
Windows
Links Mentioned In The Podcast:
Video Of The Week:
At 96 years old, Bob Brocklehurst needs a little more help boarding a plane than he did back in the day. But give him a second and he's right at home inside a P-51.