Podcast: Play in new window | Download
Subscribe: Apple Podcasts | Android | RSS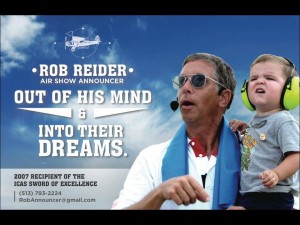 Pre-Flight Checklist
The whole crew is here with a special guest, discussing the wonders of air shows
Cruise Flight
Tonight's show is a discussion of air shows, with special guest Rob Reider. You can also find Rob on Facebook.
Pilot since 1982
Announcing Air Shows since 1978
Announced at 146 air shows all over the country in the last 7 years
Received the International Council on Air Shows Sword of Excellence (highest honor air show professional can receive)
Honorary Blue Angel (only one of 48 that have ever received this distinction)
The team discusses Air Shows with Rob, how he got started announcing air shows, and his work with Sporty's Pilot Shops developing flight teaching videos.
After Flight Checklist
No picks this week, as we enjoy this wonderful interview of our very special guest.
After Landing Checklist
This episode is sponsored by: