Podcast: Play in new window | Download
Subscribe: Apple Podcasts | Android | RSS
Preflight Checklist:
Carl is joined by Rick, Larry, Russ, Tom, and Victoria to discuss developing good aviation safety habits.
Sponsor: Aviation Careers Podcast – Scholarships, Coaching, and Career Advice.
Announcements: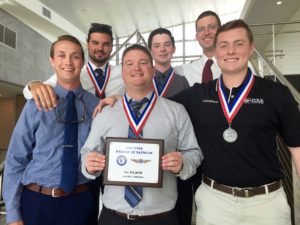 As a reminder Turbo the Flying Dog's third book: Turbo Flies through History is due out oct 19th. Victoria is also helping Turbo release a limited edition calendar. If you want one of those you should contact Victoria ASAP.
Dave Pascoe from LiveATC.net came to visit Russ for OKC tower and approach. Working together, Russ was able to get OKC air traffic control on the Live ATC website, which broadcasts air traffic control communications from various airports which are great for education and training.
Polk State Flight Team wins numerous awards at Region 9 SAFECON at Embry Riddle University in Daytona Beach. You can learn more about the team and their awards on their Facebook page.
ICON Aircraft Opens Tampa Flight Center.
Cruise Flight:
Russ Talks "Oklahoma Aviation" at Wiley Post Airport in Oklahoma City, OK.
Victoria starts a discussion on Good Aviation Safety Habits.
How Safety Habits both good and bad Develop.
PAVE Checklist
Developing a Safety Culture at the airport.
After Landing Checklist:
~Picks Of The Week~
Carl – Icon Aircraft Videos Page
Russ – GoDirect Flight Preview
Rick – Cloud Topper app
Victoria – Milwaukee Tools Heated Jacket
Larry – Flight of Passage Movie. Flight Of Passage In Amazon
Tom – Great Aviation Quotes.
Links Mentioned In The Podcast: