Podcast: Play in new window | Download
Subscribe: Apple Podcasts | Android | RSS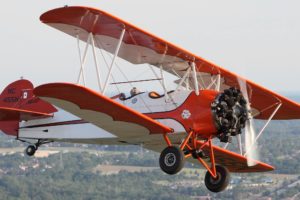 The days of barnstorming are not over because pilots such as Dewey Davenport are keeping the nostalgic golden age of flight alive! Dewey is an inspiration, outstanding pilot, and steward of aviation history. He is one of the few barnstormers in this country and the only active African American barnstormer.
Preflight Checklist:
This is a special interview with Carl and Dewey, discussing Dewey's love of aviation and how he passes it along to others.
Cruise Flight:
Dewey tells his story of flying around Ohio giving rides in an antique biplane.
He has flown Travel Air, Steerman, the Standard.
Dewey explains the history of barnstorming right after World War I.
Why barnstorming in an open cockpit plane has become so rare.
Dewey's story about how he got started in barnstorming.
Dewey has worked with the Wounded Warrior project to help veterans achieve their dream of flying in a biplane.
Dewey also participates in the Barnstorming Carnival
After Landing Checklist:
Links Mentioned In The Podcast:
Check out Dewey's Facebook page
Video Of The Week: