Podcast: Play in new window | Download
Subscribe: Apple Podcasts | Android | RSS
Preflight Checklist: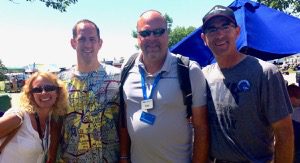 Carl is joined by Russ Roslewski to narrate through the interviews Russ conducted at AirVenture 2017. Russ got to meet up with Larry, Tom, Dave Abbey, Dave Pasco, and Jennifer.
AOPA is having a fly-in September 8-9, 2017 in Norman, Oklahoma. There will be seminars and talks on Friday and open displays on Saturday.
Cruise Flight:
Interviews from AirVenture 2017:
Levil Aviation – Michelle Leon:
Makers of the Beacon and BOM ADS-B products
Air Race Classic – Linda Evans:
Annual all-women cross country air race
American Bonanza Society – Tom Turner:
Type club and training programs for Beech Bonanza and Baron aircraft
Foreflight Scout – Stephen Newman:
Small, inexpensive ADS-B-Out receiver
University of Dubuque Flight Program – Ken Rizer and Yaya Lugo-Ruiz – University of Dubuque:
Bachelor of Science degrees in aviation fields
L3 – Russ Myers:
ADS-B In/Out transponder all-in-one solution
Air Journey – Anais Pouille:
Escorted or self-guided air journeys
After Landing Checklist:
If you were not able to attend AirVenture 2017, this is our way of bringing some of the show to you! We hope to see you next year!